Ski School and Childcare
Exclusive skiScandinavia services in the resort of Trysil, Norway
From living, working and even raising a family in Scandinavian ski resorts, our skiScandinavia experts have first-hand experience of just how welcoming and family friendly Scandinavia is. Whether you're new to the slopes or have been skiing together as a family since your children could walk, we believe that Scandinavia is the epitome of family skiing.
At skiScandinavia we understand all the elements of a fantastic family skiing holiday, which is why we are pleased to offer our highly acclaimed exclusive ski groups and complimentary childcare service.
Ski instructors in Norway and Sweden are passionate about skiing and fluent in English, allowing them to communicate the small details - and even more importantly, the joy of skiing! Our exclusive ski groups are designed by us to fit your family. The sessions are led by experienced and trusted instructors, and the adult and children's lessons are synchronised for ultimate ease and peace of mind. This exclusive skiScandinavia service is available during the February half term and Easter school holidays.
With skiScandinavia, family fun doesn't end on the slopes. As well as your fantastic accommodation facilities there is a great choice of additional activities - from exclusive husky sledding trips and horse sleigh rides to sledging and star gazing. See our resort activity page for a full list of what's available or speak to us today for personalised suggestions.
Our Exclusive Ski Groups in Trysil
Ski school is a large part of most ski holidays, especially for family skiing, so it's important to get it right. At skiScandinavia we believe expert tuition, arranged to suit your requirements, will guarantee you have a fantastic time! That's why we created our exclusive ski groups, to ensure that we provide the seamless service you expect from skiScandinavia throughout every aspect of your holiday. This service is available in the resort of Trysil in Norway.
Inspiring skiers for over two decades
Our experience and local expertise allows us to work closely with local ski schools to create our exclusive groups for the whole family. As a result, we have been inspiring new and improving skiers for over two decades, and we are proud to offer playSki, funSki Academy and vipSki Coaching exclusively to skiScandinavia customers:
playSki
We created playSki for the youngest skiers in your family to ensure they love skiing right from the start. Designed for 3 year old beginners, the 3 hour morning sessions are split between outdoor skiing, snow-play, indoor games and crafts to give your child/children the best introduction to skiing holidays.
3 year old beginners
3 hours each day for 6 days (09:00 - 12:00)
A combination of 90 minutes on the snow with an instructor and 90 minutes indoor play
Guaranteed to run alongside our funSki Academy and vipSki Coaching
Maximum group size of 4 children
Well equipped indoor playroom
funSki Academy
Our original ski school groups for children age 4 - 15 years. The small groups, based on ability and age, are designed to ensure your children love skiing as much as you do. The emphasis is on having fun whilst learning, with a more focused approach on coaching as age and ability grow.
Ability and age based groups
4 - 6 year olds, maximum group size of 7 children
7 - 9 year olds, maximum group size of 9 children
10 - 15 year olds, maximum group size of 9 children
3 hours each day for 6 days (09:00 - 12:00)
Guaranteed to run alongside our playSki and vipSki Coaching
vipSki Coaching
For adults we have vipSki Coaching; social and un-pressured skiing sessions in which to improve your skiing and explore the mountain. vipSki is designed to start just after and finish just before playSki and funSki lessons, for a completely stress free experience. The tuition is based on individual coaching within a group setting to improve and fine-tune techniques.
16+ years, beginners to advanced
2 hours 30 minutes each morning for 6 days
Starts 15 minutes after our playSki and funSki Academy begins and finishes 15 minutes before they end
Maximum group size of 9
Social skiing groups with individual coaching 
playSki and beginner lessons at SkiStar Lodge Trysil
For guests staying at SkiStar Lodge Trysil, lessons for playSki and beginner funSki Academy and vipSki Coaching groups will start at the Høyfjellssenter - a gentle, wide, safe ski area. This designated area is perfect for encouraging learning, with easy to use button lifts and optimal slopes for those discovering their ski legs for the first time. 
Our skiScandinavia hosts will operate a shuttle service in our minibus to accommodate the 2 minute drive from SkiStar Lodge Trysil to the Høyfjellssenter. Children will be chaperoned by our skiScandinavia nannies and our skiScandinavia hosts will be on hand throughout.
Once beginner groups are confident in their newly found ski skills (normally after a couple of days), their lessons will then begin right outside the accommodation.
Complimentary Childcare in Trysil
At skiScandinavia we strive to create relaxing family ski holidays, which is why we offer complimentary childcare services at the SkiStar Lodge Trysil, Norway during February Half Term and Easter school holidays.
The details
Sunday - Friday
Mornings from 09:00 - 12:00
Afternoons from 13:30 - 16:30
Mornings for children age 12 to 36 months
Afternoons for children aged 3 to 8 years
Available at the SkiStar Lodge Trysil
How it works
Our complimentary childcare is run by our passionate skiScandinavia nannies and usually entails a mixture of indoor and outdoor play.
You drop your children off at the assigned point at the start of each session and once everyone is all set, the nannies and children will start their morning/afternoon of activities and games based on the children's ages.
Activities include crafts and painting as well as sledging and fun in the snow if the weather is suitable. At the end of an enjoyable session you will collect your children from the assigned point and the nannies will let you know how the session has been.
As per UK guidelines, group sizes and child to carer ratios are based on the age of the children to ensure the best possible care is given. Our skiScandinavia childcare team are CRB checked (or Scandinavian equivalent) to give you complete peace of mind for the most relaxing holiday. Because of this, group sizes are limited so we suggest you let us know as early as possible about your childcare needs when you book.
What's not included
The lunch break is between 12:00 and 13:30, giving you time to catch up as a family. Please note lunch isn't included.
Snacks and drinks. Water is provided.
Nappies and changing equipment.


Whilst our childcare services are complimentary, we reserve the right to withdraw this service in accordance to guideline changes from the local health authority.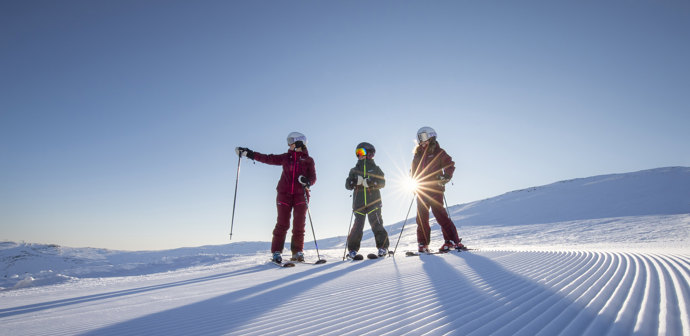 Book your quintessential family ski trip in Norway for February Half Term 2024. Fantastic skiing, quiet slopes, fabulous accommodation, complimentary childcare and our exclusive ski groups. Expert advice and unrivalled service. ATOL protected. ABTA & AITO assured. Travel Guarantee. MORE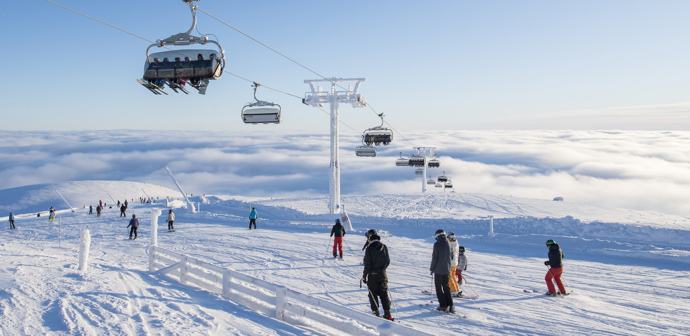 Ski in Trysil for the ultimate Easter holiday! Memorable family holidays, with guaranteed snow in April, quiet slopes, exhilarating winter activities and much more! Expert advice and unrivalled service. ATOL protected. ABTA & AITO assured. Travel Guarantee. MORE