In Search of Hot Chocolate Heaven
Our Trysil 'Top 5'!
We'd go as far as saying that any ski holiday isn't quite complete without the warming embrace of a 'proper' hot chocolate whilst out on the mountains.
We went in search of the ultimate 'varm sjokolade' in Trysil. From classic cups of rich, velvety chocolate to fun-sized, fully loaded mugs of hot chocolate heaven, we scaled Trysilfjellet in search of confection perfection. 
It's a tough job, but someone's got to do it…
5. Kort & Godt Bakeri
In English, 'Kort & Godt' means 'Quick & Good' – but after our truly sweet experience at the bakery, we think it should be more aptly renamed to 'Savour & Delight'!
The defining moment for this hot chocolate was the mammoth marshmallow which melted into the molten liquid in a most sumptuous manor - it was divine!
In an effort to achieve 'one of our five a day', we ordered a blueberry fruit pastry to accompany our hot beverages… If all fruit pastries tasted as good as this one, we could definitely get used to being 'healthy'!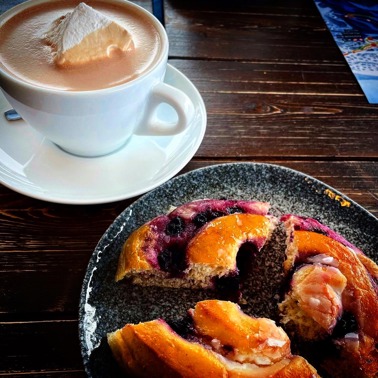 4. Restaurant Fjellroa
Newly opened in winter 2019, Restaurant Fjellroa is one of the more recent additions to the mountain, but by no means any less of a contender when it comes to top hot chocolates!
The eager eyed may recognise the mugs are the same as the ones used at Fjellgrillen – Fjellroa is actually its sister site! This time however, we opted for a more traditional hot chocolate in comparison to the maxed-out, fun-sized offering at Fjellgrillen.
The taste was just as delicious – it ticked all the chocolatey boxes and the cream on top was a light, fluffy, sweet treat!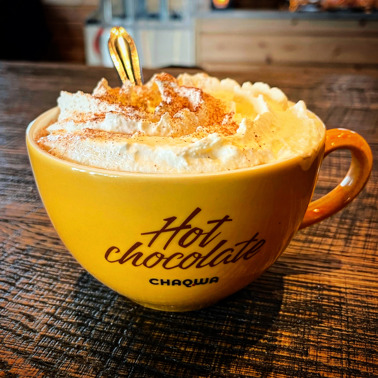 3. Skihytta
Known for its locally sourced meats, home-brewed beer and speciality 'Suppegjok' (a goulash soup which is served within a hollowed-out loaf of bread) we came to Skihytta not for the above, but to sample its famous hot chocolate and indulgent cakes instead…
The hot chocolate was delivered to our cosy fireside table along-side a devilishly delicious triple chocolate muffin. Every crumb was devoured and not a drop was left in our mugs. It's safe to say we were skiing with a slight buzz after such a deliciously decadent hit of sugar!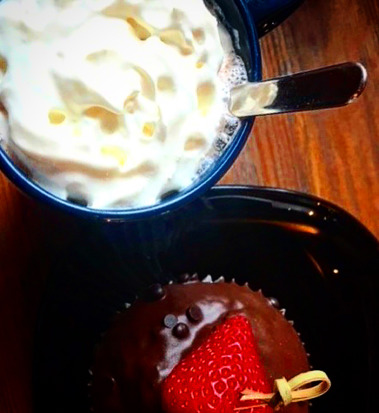 2. Knettsetra - Seterstua Restaurant
Nestled amongst snow-laden, pristine pines, Knettsetra is where you will find a quintessential Scandinavian log cabin experience.
Roaring fires and welcoming smiles greeted us as we ordered a cup of their finest - and boy were we impressed!
The hot chocolate excelled in every way – it was rich, velvety, smooth and authentic. Whipped cream adorned the top of our little glass goblets which created a winning combination of creamy chocolatey goodness!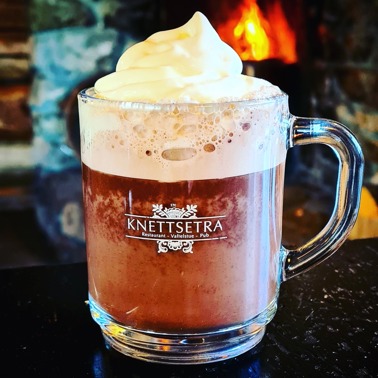 1. Fjellgrillen
Not only is Fjellgrillen located quite literally on top of one of the mountain's highest points known as the Høyfjellssenter, it too stands proudly at the top of our list as having quite possibly the holy grail of all hot chocolates across the mountain!
Our cups arrived supersized, mirroring the mountains we could see from our glorious window view. The already delicious hot chocolate was elevated with a cloud-like whipped cream topping, a scattering of gooey mini-marshmallows, an assortment of colourful crunchy Smarties and finished with a dusting of cocoa.
Pure. Chocolate. Heaven.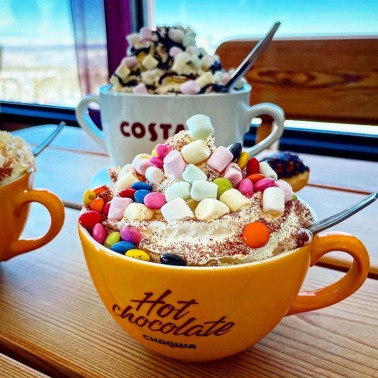 We hope you're able to sample some of these delicious hot chocolates the next time you're in Trysil! 
A special thanks must go out to Fleur, who became an honorary skiScandinavia team member for the week to help us with this hot chocolate countdown!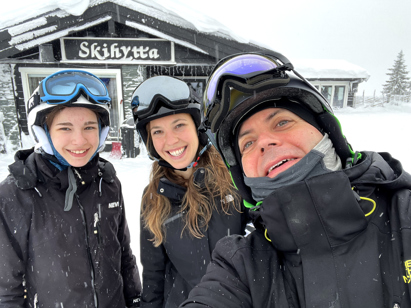 "Who can ignore the hot chocolate! Almost every run has a café at the bottom with hot drinks which are certain to warm even the coldest of skiers when they come off the slopes - and plenty of cakes and snacks in case you get peckish!
This was my second time skiing in Norway with skiScandinavia and somehow it was even better than the first. The team are attentive and eager to help with anything you need. Overall I have to say that my ski holiday with skiScandinavia is one of the best I have ever experienced and I will certainly be begging my parents to come back next year!"